Yes! Please sign me up for
my risk-free trial of The Next Superstock
I'd like to receive your continual stream of stocks that have the potential of becoming Superstocks.

I'd also like to receive information on all THREE stocks which have just entered their "disruption phases."

Everything is included in my FREE report:
I realize that, in addition to these reports, I'll also immediately receive:
12 Monthly Issues of The Next Superstock - This will be your monthly touchstone as well as your constant link to my Superstock discoveries. I'll update you on previous picks and I'll also deliver 2 NEW picks in each and every issue.


The Next Superstock Weekly Updates - In addition to my monthly roundup, I'll also send you a weekly report on all of our active picks. I'll tell you what I'm looking at and what we can expect from our positions.


Private Members-Only Website Access - Here you can check past issues and recommendations, read my catalog of weekly updates, and also see the detailed portfolio (complete with entry/exit prices).


The Next Superstock VIP Customer Service - You'll have access to a VIP customer service line that will be your aid for any question you might have. You can call in with any question, and The Next Superstock team will be there to help you out. We can also answer any questions through email if you'd prefer.


I understand that I'll receive ALL of this as part of my no-risk 60-day trial to The Next Superstock..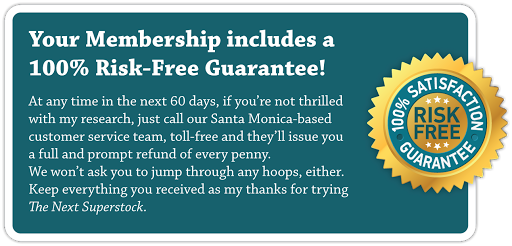 All I have to do is make a simple choice to get started.

I can opt for the...