100% Satisfaction Guaranteed
I know that with my 100% money-back guarantee there's no way I can lose. I get 60 days to sample Triple Digit Returns risk-free.
If I'm not 100% thrilled and impressed during the 60 days, I can cancel for a full refund. And no matter what I decide, all premium research reports I receive will be mine to keep as a special "thank you" for giving Triple Digit Returns a free trial.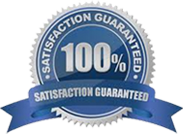 Here's What You'll Receive:
Weekly Profit Picks: Every week I'll send you a play that I believe is primed for a triple-digit run.  Each play will be picked using my proprietary strategy that has proven to nail triple-digit winners with regularity.  Even if you only take action on one play per month, that's still 12 potential triple-digit winners over the course of a year.  Imagine what that would feel like.
Weekly Follow–Ups: At the end of each week, I'll make sure to send you a summary of the picks I sent out, how they're doing, and you'll see how much money you should have made.
Members-Only Website: Accurate knowledge is crucial to your success as an options trader. We set up this website to keep you on the cutting-edge. You'll find archives of past alerts, time-sensitive trading information and special extras as they become available.
Full Support: Any time you have a question, you can either email or call our support center. We are here to serve you and make you money. So don't hesitate to get in touch.
Premiere Report – Wireless Electricity: How to Plug Into 1,483% Gains: As a premiere Triple-Digit Returns member, you'll get the first-ever report I'll send out to those who are savvy enough to take action today.  This report will detail the ticker symbol, exactly how to take action, and how soon you should see gains rolling in.
FREE Bonus Report #1 – The 7 Habits of Highly Successful Traders: If you're not achieving the results you deserve in the market, don't worry.  I'll let you in on the seven little-known habits successful traders cultivate.  You see, through my experience, I've discovered top traders leave clues to their success.  Followed correctly, these clues guide you through the markets with ease and lead you to trading success.
FREE Bonus Report #2 – The Trader's Mind: A large part of your success or failure as a trader is psychological.  This report gives you a greater understanding into what you should be thinking when trading.  Read it and it will change the way you trade forever.
FREE Bonus Report #3 – The Power and the Profit of the S-Curve: The essence of all stock trading is boiled down to this essential, visual pattern.  It repeats every day in the stock market, and once you see it, you'll never forget it.  This report is a great intro to stock trading using technical indicators.  You'll enjoy it whether you're a beginner or an experienced trader.
100%

60 Day Money Back Guarantee

No questions asked, No hassles, no problems!