100% Satisfaction Guaranteed
I know that with my 100% money-back guarantee there's no way I can lose. I get 60 days to sample Triple Digit Returns risk-free.
If I'm not 100% thrilled and impressed during the 60 days, I can cancel for a full refund. And no matter what I decide, all premium research reports I receive will be mine to keep as a special "thank you" for giving Triple Digit Returns a free trial.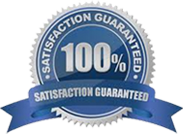 Here's What You'll Receive:
Weekly Profit Picks: Every week I'll send you a play that I believe is primed for a triple-digit run.  Each play will be picked using my proprietary strategy that has proven to nail triple-digit winners with regularity.  Even if you only take action on one play per month, that's still 12 potential triple-digit winners over the course of a year.  Imagine what that would feel like.
Weekly Follow–Ups: At the end of each week, I'll make sure to send you a summary of the picks I sent out, how they're doing, and you'll see how much money you should have made.
Members-Only Website: Accurate knowledge is crucial to your success as an options trader. We set up this website to keep you on the cutting-edge. You'll find archives of past alerts, time-sensitive trading information and special extras as they become available.
Full Support: Any time you have a question, you can either email or call our support center. We are here to serve you and make you money. So don't hesitate to get in touch.
Premiere Report – Marijuana Mania 2.0 – This Wave Could Be 8x Bigger: As a premiere Triple Digit Returns member, you'll get this report, which I'll send out to those who are ready to take action today. This report will detail the name ticker symbols and exactly how to take action on the three potentially explosive pot companies I shared with you earlier.
FREE Bonus Report #1 – How to Identify When a Stock Is Starting to Trend. In this special report, we reveal the details of a highly reliable indicator that tells investors when a trend is starting and then signals when the trend is over. (A $49 value)
FREE Bonus Report #2 – 5 Chart Patterns That Consistently Make Money for Investors. These five patterns have been shown to consistently make money for investors. (A $49 value)
FREE Bonus Report #3 – 7 Cheap and Good Stocks to Buy Right Now. Cheap and good are usually two competing qualities of a stock. It can be incredibly hard to find a company that offers you both. In this special report we share the reasons these 7 stocks in particular are both cheap AND good right now. (A $197 value)
100%

60 Day Money Back Guarantee

No questions asked, No hassles, no problems!